Filter by Category
ONLINE Courses
NCHV030M HVACR Technician Online
with ON LINE
Prepares students for an entry-level career as an HVACR technician in residential and light construction field.  Applicable skills:
Comprehend mathematical processes and use of formulas necessary for design, evaluation, and installation of HVACR systems. Understand composition and usage of HVACR materials, equipment, and tools required for installation and diagnostic tasks. Understand the refrigeration cycle, gas laws, and properties of refrigerants required for diagnostic and systems design.
Comprehend drawings, technical diagrams, and specification charts required for installation and repair of HVACR systems. Understand theories and processes for evaluating and installing electrical systems and controls. Comprehend procedures for installing, inspecting, testing, repairing, and maintaining HVACR systems.
Recognize and know procedures for following government regulations regarding the conservation, recovery, and recycling of refrigerants. Recognize safety procedures and established regulations related to workplace and job requirements.
Upon completion you will be prepared to sit for the HVACR Certificate, Includes EPA Cert. Test
On average this course is 488 hours of independent, online instruction.
For more detailed information: HVACR Technician PROGRAM OUTLINE
This course is WIOA  Approved.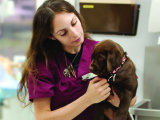 NCVA Veterinary Assistant Online
with ON LINE
A Veterinary Assistant helps the Veterinarian or the Veterinarian Technician in their daily tasks. They may feed, water, and examine pets for signs of illness, disease, or injury; clean and disinfect cages and work areas, as well as sterilize laboratory and surgical equipment in laboratories, animal hospitals and clinics.  
The program goal for this online Veterinary Assistant program is to prepare students to work as veterinary assistants under the supervision of veterinarians and veterinary technicians in small or large animal hospitals or clinics. This on-line course includes training and education in animal care, behavior, medical terminology, skeletal and muscular system, anatomy, nutrition system, History & Physical examination, immunology, emergency care, radiology, veterinary practice procedures and general accounting practices. The program also prepares the students to take the national test to become an Approved Veterinary Assistant.  Finally, students are asked to identify an externship site and are expected to complete a minimum of 100 hours of practice. 
Students must be at least 18 years of age and have completed high school or equivalent. Students must be proficient in keyboarding, have a basic understanding of a word processing program (Microsoft Word recommended) Students will be responsible for coordinating their own volunteer experience.
Veterinary Assistant training can help you make a difference in the lives of animals and the people who love them. Our course will prepare you for a rewarding career working as a veterinary assistant in a veterinary hospital, animal shelter, or other environment that requires a background in animal sciences.
On average this course is 583 hours of independent, online instruction.
For more detailed information: Veterinary Assistant Online PROGRAM OUTLINE
This course is WIOA  Approved.
Supervisory Skills for the Industrial Workplace
with ON LINE
In this course, you'll focus on two things: learning how to move through your program and an introductory lesson to your Supervisory Skills program.
In your first lesson, you'll develop the necessary skills to ensure your success in the program. You'll learn how you can improve your study skills, so you're able to use a number of tools that will help you to be successful.
In your second lesson, you'll learn more background on a supervisor's roles and responsibilities. This includes an overview of effective leadership and identifying responsibilities and potential challenges or opportunities that might appear in the role.
By the end of this course, you'll be able to do the following:
 Identify skills needed to be a confident and independent online learner
Define the significance of a supervisor, including key opportunities available in the industrial sectors
On average this course is 60 hours of independent, online instruction.
For more detailed information: Supervisory Skills for the Industrial Workplace PROGRAM OUTLINE
This course is WIOA Approved.