Filter by Category
Technical
NCTD19M Home Inspection
with Nicholas Jette

Next available session starts Sep 7, 2022 at 5:30 pm

, runs for 13 weeks
Class Schedule:
Mon. & Wed. 5:30 - 8:30pm
Saturdays 11/5 & 11/19 (4 hours) Off-site
This course will help prepare students to take the National Home Inspection Examination (NHIE) that is required for Home Inspector Licensing in New Hampshire.
Our 80 hour training program must be successfully completed in order to earn the Certificate of Completion that is required prior to taking the NHIE.
This program complies with the State of New Hampshire Home Inspection Standards of Practice and Code of Ethics and is based on a combination of the International Association of Certified Home Inspectors (InterNACHI) and the American Society of Home Inspectors (ASHI) Standards of Practice and Code of Ethics.
This comprehensive program is taught in-person or live/remote (depending on current State and CDC guidelines) by an experienced home inspector.
Students will be assessed based upon course attendance, quizzes, exams and participation in field exercises. Participants from other trades are invited and encouraged to participate in this course to better enhance their relationships with inspectors.
The course will focus on:
Structural Systems
Exteriors
Roofing Systems
Plumbing Systems
Electrical SystemsHeating & Air Conditioning Systems
Fireplaces & Solid-Fuel Burning Systems
Interiors
Insulation & Ventilation Systems
Inspection and Report Writing Methods
Required Book:
Principles of Home Inspection: Systems & Standards Third Edition
ISBN: 978-1-07-880138-6 
Principles of Home Inspection: Systems & Standards Third Edition Update eBook
ISBN: 978-1-07-880137-9
About the instructor:
A previous graduate of this course, Nicholas (Nick) Jette is a Certified Master Inspector (CMI) and is Board-Certified by the Master Inspector Certification Board.  He is also an InterNACHI Certified Professional Inspector, an ASHI Certified Inspector, and is an approved instructor to provide continuing education courses to real estate professionals.
Nick is dedicated to education and shares his experiences in an ongoing effort to help the home inspection industry continue to grow, evolve and improve.
This course is WIOA Approved.
Basic Blueprint Reading
with ON LINE
This program teaches learners the basics behind how to read blueprints. Key concepts taught in this program include print reading, understanding drawings and schematics, and geometric dimensioning and tolerancing.
Difficulty: Beginner
Occupations Trained For: All Skilled Trades
Modules: 19
Length: 124 hours
Estimated Time to Completion: 12 weeks
Basic Blueprint Reading provides students with flexible courseware and instruction that enables them to understand the various types of blueprints, shop prints and schematics used in an industrial environment. Learning to read blueprints, trainees discover how to comprehend, and interpret the different types of standard symbols and abbreviations found on electrical construction drawings, schematics, and wiring diagrams.
Learn to:
Define different types of scales used on drawings.
Identify the height, width, and length dimensions of a drawing.
Interpret the various symbols and notations used on drawings.
Draw multiview sketches of simple objects that accurately show all the details of the objects. 
This course covers the following material:
READING PRINTS & SCHEMATICS BLOCK X252EM

BUILDING DRAWINGS 186043
ELECTRICAL DRAWINGS AND CIRCUITS 186044
ELECTRONIC DRAWINGS 186045
HYDRAULIC AND PNEUMATIC DRAWINGS 186046
PIPING DRAWINGS, MATERIALS, AND PARTS 186047
WELDING SYMBOLS 186048
SHEET METAL BASICS 186049
SKETCHING 186050
ELEMENTS OF PRINT READING, PT1 6719 A
ELEMENTS OF PRINT READING 6719 B
READING SHOP PRINTS, PART 1 386043
READING SHOP PRINTS, PART 2 386044
READING ELECTRICAL SCHEMATIC  DIAGRAMS 006022
ELECTRICAL BLUEPRINT READING 006036
This course is WIOA Approved.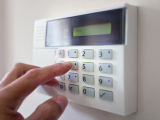 NCMI123M Security Alarm Technician
Purpose: The ever changing field of facility security requires technicians that are well versed in basic electronics, computer software applications, input/output wiring and knowledge of a variety of devices.
Course Layout:
Day 1:    Alarm panel basics for power supplies, inputs and outputs.
Day 2:    Quick-loader computer software for panel programming
Day 3:    Central Station setup and communication
Day 4:    Door access controllers
Day 5:    Special Devices
Each session will be allotted 4 hours. Structure will be a 1 hour class, short break followed by a 3 hour lab session
Requirements for Class:  Students will be required to supply the following
 Small diagonal cutters (5-6 inch)
 Long nose pliers (small point)
 Wire strippers (18GA to 24GA)
 #2 Phillips screwdrivers
 Slotted screwdriver(s)
 Small slotted and Phillips screwdrivers (such as Ideal 35-1301) 
 Multi-meter (must measure DC current, AC/DC voltage, resistance)